Handles
Fenestra windows and balcony doors come with handles and anti-closure latches included as standard. We can also provide you with suitable handles with a child lock for the windows and balconies that you need.
There are a wide range of different models: explore our standard range below and find the right one for you. If you need more options, take a look at the even wider range included in the Hoppe catalogue HERE, or contact our sales specialists. We will always find a suitable solution for you.
THE SELECTION OF HANDLES FOR WINDOWS AND INWARD BALCONY DOORS
SELECTION OF HANDLES FOR FENESTRA IOU BALCONY DOOR
SELECTION OF HANDLES FOR FENIX PATIO BALCONY DOOR
Handles
Fenestra windows and balcony doors come in a wide selection of colours. Check out a RAL or RR catalogue to pick out a preferred colour for your aluminium frame.
There are also endless possible stain options for wood frames. See the Akzo TINTEX catalogue or visit our showroom to see the samples and pick a tone.
You are welcome to take a look around!
MOST SELECTED STAINING TONES FROM THE TINTEX CATALOG
MOST SELECTED COLORS FOR ALUMINUM FRAME FROM RAL CATALOG
*Depending on the screen, the tones in the images may differ from the actual colors. To be sure of the right color, visit our showroom and see real samples on site.
Handles
Both wood and wood-aluminium windows can be ordered in varying shapes and sizes. You can have rectangular, square, triangular, round, trapezoid, angled or arched windows. Whatever suits you best!
Below are some examples of the different kinds of windows you can order from us. In addition, you can turn to us for various special solutions to get windows tailored to your preferences down to the last detail.
Handles
Decorative window glazing can be used to obscure the view in rooms requiring privacy. For example, you can let in natural light into a sauna room without the worry of prying eyes.
Nowadays, different types of glass are increasingly used as design elements to add interesting nuances to a room. There are numerous options for everyone's needs: matte, mirror, patterned or tinted glass.
THE SELECTION OF THE MOST POPULAR DECORATIVE WINDOW GLAZING.
Handles
Air vents help ensure functioning ventilation in your home by keeping indoor air fresh and healthy. The vents are designed to mix outdoor air with the warm indoor air in the upper part on the room, thereby avoiding draught.
Remember that the air vent on a window may reduce the acoustic and insulation performance of the window. An air vent is no replacement for a modern-day ventilation system. The volume of air passed through an air vent depends on the underpressure generated by the room's ventilation system. Insufficient ventilation can even cause indoor air to escape through the air vent.
The Biobe VS valve for compensating air is an inlet air valve installed into the architrave or the caulking strip. It is suitable for new constructions as well as objects undergoing repairs. The Biobe valve can be used to help regulate air intake both via natural airflow as well as mechanical ventilation to guarantee there is enough fresh air. The amount of incoming air can be calculated based on the apartment or based on each room separately.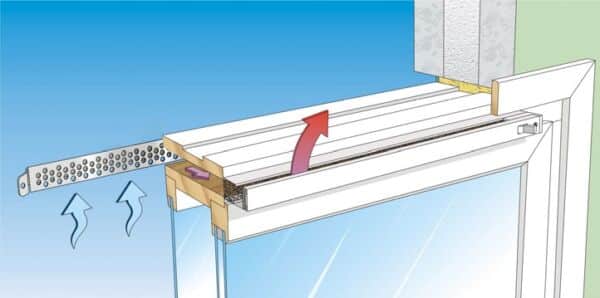 A filter element reduces pollution coming in with the outside air and allows the valve to be installed further away from the architrave. Pointing the air flow opening of the valve upwards will improve the mixing of fresh air into the warm indoor air to reduce the presence of draught.
With the AIR TERMICO additional air vent, a PASSIVE, POLARIS or a PRIMUS window is turned to an energy-efficient window with unique solutions and added ventilation. The cool fresh air coming indoors is heated by as much as 20 degrees when moving through the frames. An up-to-date filter element supports an optimal thermic air circulation and a large filtering area. An additional Fenair air valve prevents air from moving back outside. The added valve can be configured manually. This solution is only suitable when installing a window flush with the internal wall. The Fenestra Air termico air circulation system.

A good choice for buildings equipped with a mechanical ventilation systems and undergoing renovation.
It ensures:
warm and fresh air indoors without draughts
enhanced living comfort
incoming air is heated by up to 10 degrees in winter months
two electrostatic filter elements
large filtrated surface
Handles
Fenestra fire rated windows protect you and your property in extreme conditions. In case of fire, they prevent it from spreading between different floors and help buy time to safely evacuate from the building.
Our fire rated windows have been lab tested
A fire rated window is either single or double frame and opens inwards
Fire rated windows can be opened for cleaning and maintenance purposes. Our product range also includes a model that can be used as a ventilation window (PRIMUS window)
Fire class codes:
E = density, prevents the flames from advancing within a certain time
I = insulation, the window insulates the radiation of the fire for a certain time
The numbers 15, 30 and 45 designate the maintenance time of E and I properties for the duration of 15, 30 or 45 minutes, accordingly (e.g. E-15, EI-30, etc).
Fire rated windows are available for Polaris, Primus and Fenix products.
Handles
Venetian blinds and roller blinds
Stylish venetian blinds and roller blinds that match your home's decor make life as convenient as possible. We recommend ordering them with the windows, as they are much more costly and time-consuming to install later.
We have a wide range of venetian blinds and roller blinds to choose from.
REGULAR VENETIAN BLINDS
Provide protection from prying eyes
Usually between the frames or double frame windows with surface-mounted controls
Surface-mounted venetian blinds can be installed over single frame windows

INTEGRATED VENETIAN BLINDS
Double frame windows have cords and controls integrated between the frames
Venetian blinds can be installed between the glazing units on single frame windows
User-friendly, operated by a single button
Venetian blinds come in standard colours: glossy white, matte white, beige and light grey. If you want a bolder and more distinctive shade, ask us for more colour options.
SunSeal Screen blinds
can block up to 95% of sunlight
does not obscure the view outside and does not reduce natural light indoors by too much
SunSeal Black Out blinds
can achieve up to 100% darkness: with the curtain down, the surface between the frames is almost completely blocked from the light
helps prevent heat energy from escaping through the windows.
Handles
Mosquitos, flies and other unwelcome guests tend to be a problem in spring and summer, this is where an insect screen comes in handy. The screen can be set up on the inside and added to windows or balcony doors that open. Insect screens on aluminium profile frames are weatherproof and made of black fibreglass mesh.
The aluminium frame of the insect screen is finished in the same colour as the tone of the window on the outside. We also offer special solutions such as rolled insect screens or screens on hinges.